Community and Responsibility
Taking our responsibility seriously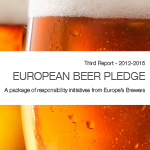 When consumed in moderation and responsibly by healthy adults, beer can be enjoyed on any occasion and may be fully compatible with a balanced and active lifestyle.
However, alcohol misuse is a serious problem and one that brewers are fully committed to tackling, including through the EU Strategy to support Member States in reducing alcohol-related harm.
The brewers play a leading role in addressing alcohol misuse in collaboration with the EU and through targeted partnerships that seek to address this challenge at the local level.

We are fully engaged in initiatives targeted at increasing consumer knowledge and reducing alcohol misuse, through major commitments such as the EU Beer Pledge, marketing self-regulation, the SMART drink-driving collaboration with the European Transport Safety Council, Ingredients and Nutrition information, and the European Alcohol & Health Forum, and are also involved in a multitude of local partnerships across Europe.
Supporting local communities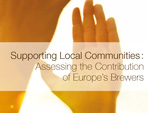 While breweries have for many years been part of the local social fabric and also supported socially responsible activities such as anti-drink driving campaigns, the support that brewers provide in the areas of the arts, culture, innovation, science and sport has been less well studied.
Europe's brewers spend almost €1 billion a year supporting a broad range of activities including major and grassroot sports events, culture and arts, charity, conservation and environment, shows and exhibitions, and city and community events. Indeed over 8,000 separate examples of community involvement by Europe's brewers have been captured, whilst thousands more are sure to exist.
The majority of brewers' contribution to communities is directed at the local and regional level. A 2011 report found that 62% of activities supported are community-related projects, with only 11.9% of analysed deals going to professional sports. Community involvement by brewers is about many small actions involving relatively small amounts of money. Taking out the major deals, the average spend is just €8,544, with 36% of activities being local and 48% regional.
The involvement of brewers in communities benefits event organisers, citizens and brewers. In many local communities, the brewer is an important employer and often has a stake in ensuring the social and cultural well-being and prosperity of the community. Many local activities would not take place if they were not supported by brewers, particularly at a time when EU governments are reducing public funding.
Amongst sponsors and event organizers, 78% state there would be significant impact from losing brewers' support, whilst only 11% of the public think that it would be easy to replace brewery support of an event.
Safeguarding the natural environment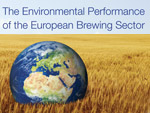 Brewers take environmental sustainability very seriously and understand the importance of 'reducing, reusing, recycling', limiting their environmental impact and increasing their efficiency efforts.
By using fewer natural resources, cutting CO2 emissions, and producing less waste than ever before, brewers actively support the EU's drive towards sustainable consumption and production. With water making up over 90% of beer, cutting water use is a key priority for brewers in order to both ensure a consistent supply of quality water and safeguard this important resource.
Brewers are also finding innovative ways to save resources, whilst producing a consistent, high quality product. This includes the reuse of secondary products such as brewers' grains to feed cattle and biogas to produce green energy.
The Brewers of Europe is delighted that Beer has been selected as a pilot for the European Commission's Product Environmental Footprint (PEF) project. The initiative, aimed at analysing the opportunity for the development of a systematic methodology for calculating the environmental footprint of food products, will help brewers to continue their pioneering work in the field of product sustainability.
The Food and Drink PEF initiative provides a landmark opportunity to explore and enhance the efficiency and accuracy of measuring environmental impact. A comprehensive life-cycle approach should allow for greater resource efficiency gains and synergies throughout the whole value chain, to the benefit of consumers and the planet alike.