Moderation and Wellbeing
Brewers recognise that whilst beer is a relatively low alcohol beverage and its responsible consumption can be compatible with an adult's healthy lifestyle, its excessive consumption, as for stronger alcoholic beverages, can contribute to ill health. This is why brewers have been so active on, for example, tackling drink-driving through campaigns and ensuring effective advertising self-regulation.
In addition to the implementation of an EU-wide commitment on advertising self-regulation that outlined seven operational standards to be met in each country, a number of national activities tackling alcohol misuse have been supported by brewers over the years, particularly in partnership with governments, civil society bodies, NGOs and other concerned stakeholders.
The European Beer Pledge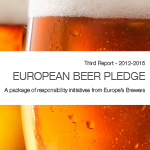 Launched in the European Parliament on 28 February 2012 the European Beer Pledge is a voluntary initiative by brewers across Europe to support EU Member States in reducing alcohol related harm. The Brewers of Europe and its members committed to taking concerted and measurable action to improve consumer information, ensure responsible advertising and address alcohol misuse in line with the expectations of citizens and EU policymakers.
Europe's brewers committed to building on decades of action against alcohol misuse and their position as the leading contributors of voluntary commitments to the European Alcohol and Health Forum. Europe's brewers committed to ensuring increased and improved coverage of the EU with best practice activities to implement the EU Strategy to support Member States in reducing alcohol related harm.
Pillar 1: Increase consumer knowledge of beer and its responsible consumption
Pillar 2: Ensure responsible advertising and marketing
Pillar 3: Address alcohol misuse
Transcending all three pillars of the Pledge, the multi-stakeholder approach remains vital to developing and implementing approaches that can be successfully implemented at national level and in line with local expectations and customs.
Developing a framework to drive future responsibility activities by brewers, the Pledge is underpinned by national brewers' associations and companies representing and producing beer across the EU, who take responsibility for its implementation. The Brewers of Europe, uniting national brewers' associations from across the EU, committed to publishing EU toolkits to guide and stimulate the spread of good practices.
The meetings of the Alcohol and Health Forum Plenary provide opportunities to report on progress, including through specific examples of activities undertaken to support the Pledge's practical implementation.
Europe's brewers also committed that the Pledge be evaluated annually to allow for ongoing measurement of activities, improvements and expansion in line with best practices. These annual evaluations should not be considered as exhaustive analyses but overviews, featuring highlights, on which future Pledge activities and interim reports will be built.
Whilst some activities are carried out at national level and supported through the national brewers' associations, others are company activities, conducted either at the national or the global level across a number of the company's country operations.
The third interim report was published in 2017 and looked back at all the activities carried out under the umbrella of the Beer Pledge since its launch in 2012. More information, the full reporting and an opportunity to download the complete report, to be found at http://pledge.brewersofeurope.eu./.