Media Contact
Jan de Grave / Director - Communications.
12/10/2010
12 October 2010 - Beer serves Europe I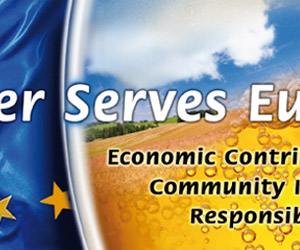 Beer Serves Europe
Economic contribution – Community Involvement – Responsibility
When most people think about the attributes of beer, words like crisp and refreshing come to mind. But beer means more than that. Brewed and consumed in every single EU Member State, the production and selling of beer accounts for two and half million European jobs. These jobs help strengthen many other sectors of Europe's economy too. And let's not forget that the beer sector contributes almost €60 billion to European governments by way of taxes.
Europe's brewers though aren't just focused on the economic numbers. Community involvement is a big theme for us. All across Europe, brewers, are dedicated to enhancing the quality of life in neighbourhoods large and small. Through charitable contributions, civic and community support such as festival sponsorship, sports involvement and entertainment events, Europe's brewers are a longstanding part of the community.
Our longstanding commitment to responsibility is yet another way we make a difference and in which we serve Europe well. Through on the ground sustainable partnerships with many different actors, we're doing our bit in helping to avoid misuse of our product and in preventing underage drinking of beer. The more than 300 or so responsibility initiatives speak for themselves. We're also making sure that our advertising is done in responsible ways. Responsibility too extends to the environment through production, recycling, conservation and preservation programs.
We're proud to brew and distribute some of the world's finest and most respected quality beers. And in partnership with Eurotoques International,
we're proud to responsibly celebrate beer as Europe's convivial drink!
Event format
The format for the event is as follows:
High-level panel discussion (16h to 18h) followed by Exclusive Beer & Food Reception (18 to 21h)
In association with Eurotoques International, The Brewers of Europe invite you to attend a high-level panel discussion, and to responsibly celebrate beer as Europe's convivial drink at a post-discussion Exclusive Beer and Food Reception.
Confirmed speakers include:
Mr Herman Van Rompuy, President, Council of the EU (keynote )
Ms Marianne Thyssen MEP, President, EP Beer Club
Mr Jean-François van Boxmeer, CEO, Heineken
Mr Michel Moortgat, CEO, Duvel
Mr Alberto da Ponte, President, The Brewers of Europe
Prof Philippe De Witte, Chairman, ERAB Advisory Board
Ms Karin Helmstaedt, journalist and moderator
ADDRESS
Concert Noble
82 rue d'Arlon,
1040 Brussels