Media Contact
Simon Spillane / Director Communications and Public Affairs.
18/05/2015
35th Congress of the European Brewery Convention to focus on science and innovation for Europe's brewing sector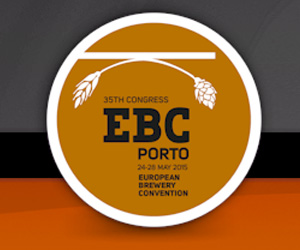 18 May 2015: One week ahead of the 35th Congress of the European Brewery Convention (EBC), The Brewers of Europe reiterates the importance of research, innovation and new technologies for the sustained growth of the European beer sector.
Visiting Portugal for the third time, the bi-annual EBC Congress takes place in Porto from 24th to 28th May this year and will gather delegates from across the world. A predominantly industry audience will hear, view, discuss and challenge scientific and technical papers and posters, covering recent developments and breakthroughs in the brewing, malting and related industries.
There are well over 5000 breweries in Europe that brew an estimated 38 billion litres of beer a year. All of these breweries are dependent on a diversity of businesses that help bring the product from grain to glass.
The value chain encompasses the supply of agricultural products such as cereals and hops, the equipment and machinery used in the brewing process, and the packaging, transport and storage companies that help ensure a high quality product be distributed to the wholesalers, retailers, bars and cafés that distribute the final product. Just in Europe, brewing has a value chain that generates over 2 million jobs in the production and sale of beer.
Researchers from around Europe and beyond (including Japan, the US, and Latin America) will present some of the latest scientific developments about beer and discuss the role that technology and innovation can play in the brewing process and for the brewing sector as a whole.
As at previous EBC congresses, a trade show exhibition will also allow brewers to meet and mingle with industry suppliers and knowledge brokers. There are also expected to be up to a hundred young brewers and researchers, who represent the future of Europe's beer sector.
Contact details
Simon Spillane, Communications Senior Advisor, The Brewers of Europe
+32 (0)2 551 1810; sws@brewersofeurope.org
About The Brewers of Europe
Founded in 1958, The Brewers of Europe unites the national brewers' associations from 29 European countries to promote the unique contribution made by beer and brewers to Europe's culture, economy and society.
About the European Brewery Convention
Founded in 1946, the European Brewery Convention (EBC) merged with The Brewers of Europe in 2007 to become the organisation's scientific and technological arm.