Media Contact
Jan de Grave / Director - Communications.
14/03/2018
The Life Brewery sprint - looking for innovators to improve the aquaculture sustainability through brewers' spent grain & yeast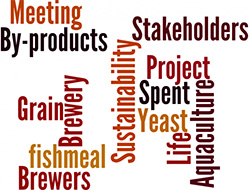 Turning Waste into Feed. Join Our Life Bvrewery Sprint to Help!
The voice of brewery and aquaculture value-chain are utmost of importance for the final success of the project. Hence, Life Brewery invites stakeholders to participate in our complimentary Life Brewery Sprint on 14th March 2018 at 14:00 hrs Brussels time. The Life Brewery is a 3 hours workshop in Brussels, Belgium in which ideas will be jointly developed to tackle circular Brewers' grain and yeast problem better. Are you ready to join?
To receive your complimentary invitation please contact: Mr. David San Martin and Mrs. Anna-Maria De Smet
E-mails: dsanmartin@azti.es and amds@brewersofeurope.org
Workshop address:
The Brewers of Europe
Rue Caroly 23 – 25
1050 Brussels (Belgium)
More information on http://lifebrewery.azti.es