Media Contact
Simon Spillane / Director Communications and Public Affairs.
29/10/2018
Passing of Piero Perron, President of The Brewers of Europe 2002-2006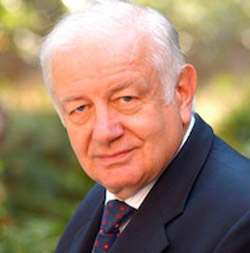 It is with great sadness that The Brewers of Europe announces the sudden passing of Piero Perron.
Piero Perron will be sorely missed, having been an ever present in The Brewers of Europe General Assembly for the last fifteen years, as an active member of both the Italian and the Spanish brewers' delegations.

As President of The Brewers of Europe from 2002 to 2006, Piero Perron laid the foundations for today's Association. It is under his chairmanship and with his personal dedication, touring Europe as a voice for strength in unity and purpose across the brewing sector, that the number of Member Associations of The Brewers of Europe doubled within just a few years. It is under his guidance and leadership, not just during but also following his Presidency, that the governance of The Brewers of Europe was modernised and the social responsibility of Europe's brewing sector became a crucial topic at the heart of The Brewers of Europe.
Piero Perron was not only a dedicated believer in The Brewers of Europe, but he equally saw strong National Brewers Associations as crucial to the sustainability of a vibrant, successful brewing sector, serving over the years as President both of the Brewers of Spain and of the Italian Beer and Malt Association.
Finally, it is also on a personal level, with his interest and passion for learning and sharing experiences, that Piero touched the lives of so many across Europe's brewing fraternity and beyond. At this sad time, we have special thoughts for Piero's family, especially his wife Angela and for all those who had a chance to work closely with him.
The Brewers of Europe owe Piero a lot
--- END ---
Contact:
Jan de Grave, Communications Director, +32 (0)2 551 1810, jdg@brewersofeurope.org
About us:
Based in Brussels, The Brewers of Europe brings together national brewers' associations from 29 European countries and provides a voice to support the united interests of Europe's 8,500 breweries. The brewing sector adds €50bn annually to the EU economy and provides over 2.3 million jobs. Follow us on Twitter and visit our website www.brewersofeurope.org.